The Swedes from Ghost in the new tour perform in masks of the Ukrainian art studio Bob Basset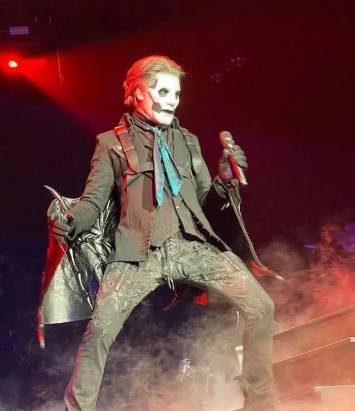 Soloist Pope Emeritus IV in the wings of Bob Basset
On January 25, 2022, the famous Swedish rock band Ghost began their new tour Imperatour with
concert in Reno (USA). Soloist Pope Emeritus IV and the group of Nameless Guls presented
live October single "Hunter's Moon", cover of Metallica's hit "Enter Sandman" and more
no one has heard the track "Kaisarion" from the new album Impera, released in March. It was
Ghost's first performance in two years. Band members, as always, keeping their own
anonymity, came on stage in masks. This time they were made by Ukrainians from the Bob art studio
Basset. By the way, they are also related to Metallica – they made a mask for their film Metallica:
Through the Never. One of the soloist's accessories was a two-meter one dragon wings, also from Bob Basset.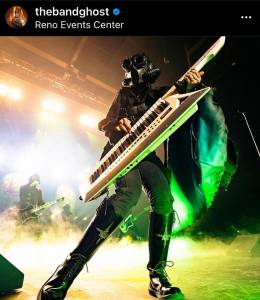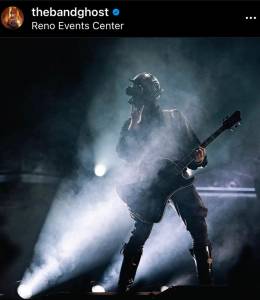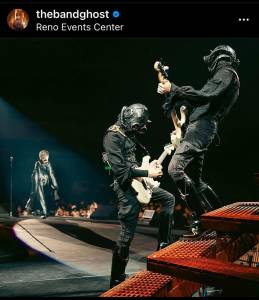 Except for the technical error of the stage workers (at the beginning of the performance, when it sounded
"Kaisarion", could not lower the curtain), it was an incredible and long-awaited show, writes
Revolver. "Starting the tour with a song that no one has heard before is bold and exciting," he said
Joe DiVita of Loudwire.
Ghost will perform in the USA until March 3, and from April 9 (Manchester, England) until May 18
(Budapest, Hungary) – in Europe.
Founded in 2006 in Linkoping, Ghost is one of the best examples of Scandinavian
heavy metal, and a unique representative of the occult year. The band's performances are always impressive
show with religious provocative content. Band members never open
their real names and always appear as Nameless Guli. The soloist performs under the name Papa
Emeritus – during the existence of the group has changed four, and the death of the previous and
the erection of a new "pope" often takes place during concerts. Ghost's popularity is fast
crossed the border into Sweden. Yes, Metallica soloist James Hatfield called their tracks "a sip
fresh air "for metal. And Nirvana and Foo Fighters member Dave Grohl participated in
recorded individual tracks and produced band recordings. One of the Nameless Gulls claims that
Grohl himself sometimes secretly dresses up as Gul to perform with Ghost.
The anonymity of Ghost members is an inviolable principle of the band, which can be followed
thanks to the careful selection of stage costumes. Especially – masks. Them for the Imperatour tour
Swedes ordered from one of the world's best manufacturers of masks – Ukrainian art studio Bob
Basset. They also immediately mentioned the "dragon's wings", as their master calls them, the scope of which,
by the way, is 2 meters.
Well-known Swedish stylist Beat Åkerlund contacted the Ukrainians.
is engaged in the design of Ghost's performance (previously worked with Beyonce, Lady Gaga,
Britney Spears, Rihanna, Madonna and others). It was a "fantastic collaboration," he said
co-founder of the art studio Bob Basset, artist Sergei Petrov.
He says he made eight masks that looked like gas masks for the Nameless Hul.
"Thanks to similar masks Bob Basset gained its first popularity.
To summarize, these are masks in a style close to steampunk made of leather, brass, horns, which,
by the way, made from real cow horns. And then we did what we never did make seven more copies of this mask according to individual parameters for each of
Nameless Hul. Of course, in addition to being spectacular, they must be extraordinary
comfortable, because musicians have to work on stage for several hours – that's all
it has been repeatedly tested for convenience and safety" says Sergey Petrov.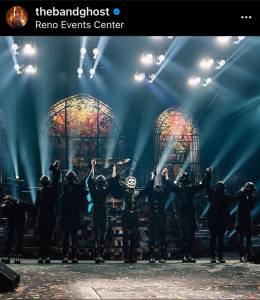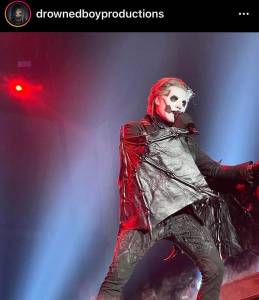 According to the artist, the hardest part was waiting for the news that Ghost finally came out because
everything was repeatedly postponed due to the pandemic, and to talk about their participation in the project
Ukrainians could not.
"Of course, we are very happy now. This is not our first collaboration with famous musicians,
but every time it's like the first time. Ghost – world metal legends, it was an honor for us
to work with them ", – Sergey Petrov admits.
Recall that the masks from Bob Basset are used by many world stars: they appear in
clips of Zayn, Avril Lavigne, Korn, Otep and Tantric, in the film Metallica: Through the Never ("Through
impossible "), and Slipknot member Sid Wilson performs and stars in masks from Bob Basset
almost 7 years.