Bob Basset to Have First Ever Showing in Kharkiv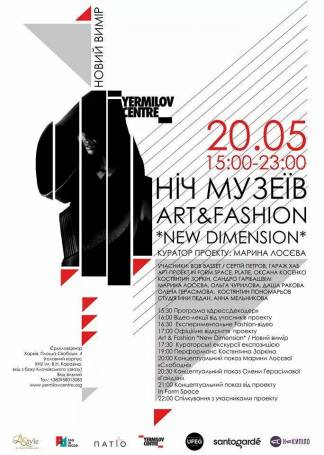 On May 20 works by Bob Basset will, for the first time ever, be shown in Kharkiv, the art studio's home town. The new project, Art & Fashion: New Dimension, featuring Bob Basset masks, was conceived specially for the Museum Night in Kharkiv. The exhibition will only last eight hours, 3:30 to 11:00 p.m., at YermilovCentre.
Works by Bob Basset will be the centerpiece of the project. Despite the fact that the art studio has operated in Kharkiv for 27 years, its works have never officially been exhibited here—although they have been shown in Paris, Milan, Hong Kong, Beijing, Seoul, Tokyo, London, New York, and in some Ukrainian cities, namely Kyiv, Odesa, Donetsk, and Lviv. The conceptual basis of the new exposition curated by Maryna Loseva is the human skull as a code and an object of regard in fashion and art. "We will examine not only clothes as a piece of art but also the body itself as a piece of art," says the curator.
Art & Fashion: New Dimension will feature the studio's trademark masks: works from the ΣΑΛΩΜΗΣ (Salome) cycle, the apocalyptic Priest Fighter (a.k.a. Orthodox Demon Hunter), the steampunk Cyber Dog, bag-masks, and more. Also shown will be the skulls created by Bob Basset in collaboration with the artist Hamlet Zinkovsky and the fashion illustrator Alina Zamanova.
"We hide our heads, sometimes under a special cover called a mask. A painted mask is a double layer of codes and meanings, especially when the mask and the painting are the work of two different authors, as in our collaboration with Hamlet," says Serhiy Petrov.
Natalya Ivanova, director of YermilovCentre contemporary arts center and co-coordinator of Art & Fashion: New Dimension, says: "It's very important to us that Bob Basset, a world-famous artist, has his first Kharkiv show at our venue. Especially with this project. Because Bob Basset is a perfect example of how art and fashion create one another—through reflection and cooperation. Bob Basset is living proof that today an artist from Kharkiv can create not only great art but also worldwide trends. Thus putting Kharkiv on the world map of Art & Fashion."