Bob Basset Mask Featured in Otep's "Generation Doom" Video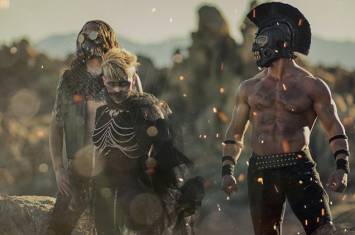 The nu-metal band Otep's new video "Generation Doom" from the eponymous album features a mask by Bob Basset. At the band's request, the studio designed a mask incorporating features of an antique helmet. The mask was used by Otep for the video shoot and on tour. Otep formed in Los Angeles in 2000 around the poet and activist Otep Shamaya, and almost immediately thereafter were invited to play Ozzy Osbourne's Ozzfest. The band went on to sign with Capital Records, regularly returning to play Ozzfest, touring, and releasing six studio albums, four of which were featured in Billboard's Top 10 Independent Albums. Released in 2016, Generation Doom is their seventh album. Otep Shamaya explores her favorite themes of protest and responsibility for the future: "We are the generation that can change everything. It just depends on if we care enough about it or not."
The nu-metal band Otep's new video "Generation Doom" from the eponymous album features a mask by Bob Basset.
At the band's request, the studio designed a mask incorporating features of an antique helmet. The mask was used by Otep for the video shoot and on tour.
Otep formed in Los Angeles in 2000 around the poet and activist Otep Shamaya, and almost immediately thereafter were invited to play Ozzy Osbourne's Ozzfest. The band went on to sign with Capital Records, regularly returning to play Ozzfest, touring, and releasing six studio albums, four of which were featured in Billboard's Top 10 Independent Albums.
Released in 2016, Generation Doom is their seventh album. Otep Shamaya explores her favorite themes of protest and responsibility for the future: "We are the generation that can change everything. It just depends on if we care enough about it or not."